Sparen Sie mit der One Timber Kranwaage Busgelder für Überladungen. Vermeiden Sie Unterladung und unnötige Fahrten zu Wiegeplätzen. Die nachrüstbare, kabellose Forstwaage ist präzise und für eine schnelle Beladung mit einer Kapazität von bis zu 10 t ausgelegt.
Tamtron One Timber:
Einfach zu installieren und zu verwenden
Robustes Wiegegelenk für raue Umgebungsbedingungen
Einfache Benutzeroberfläche
Durchschnittliche Akkulaufzeit über 2 Wochen (Ersatz Akku im Lieferumfang enthalten)
Die Beladungsweise wirkt sich nicht auf die Genauigkeit aus
Produktsupport und Aktualisierungen der Waage per Fernwartung
24/7 Echtzeit-Datenübertragung mit der One Cloud
The One Bioforest SG forwarder scale includes the Tamtron One display and the new generation SG strain gauge weighing link that work together wirelessly.
ONE TIMBER COMPLETE WEIGHING SYSTEMS AND UPDATE KITS
ONE TIMBER COMPLETE WEIGHING SYSTEMS
Use the One Timber SG or One Timber C timber crane scales to avoid overloading, underloading and driving unnecessarily. The retrofitted wireless timber scale is accurate and designed for fast-paced loading up to 10 tons. This timber scale is compatible with the majority of timber trucks and log excavators.
One Timber SG crane scale
ONE TIMBER SG TIMBER SCALE
The delivery includes a Tamtron One display and a new generation SG strain gauge pendant that work together wirelessly.
One Timber SG scale and its durable weighing sensor are ideal for demanding use and continuous loading. With this loader scale, weighing is possible with the accuracy required in extreme working conditions. The weighing sensor is based on strain gauge technology, so there is no hydraulics in the sensor that would cause friction or moving parts affecting the weighing. The sensor is maintenance-free and has a long-lasting battery. The operating temperature of the motion- and temperature-compensated sensor is -25 ° C to + 50 ° C. The sensor's internal software can be updated as needed. The user interface of the Tamtron One touchscreen scale has been designed and tested in collaboration with industry professionals.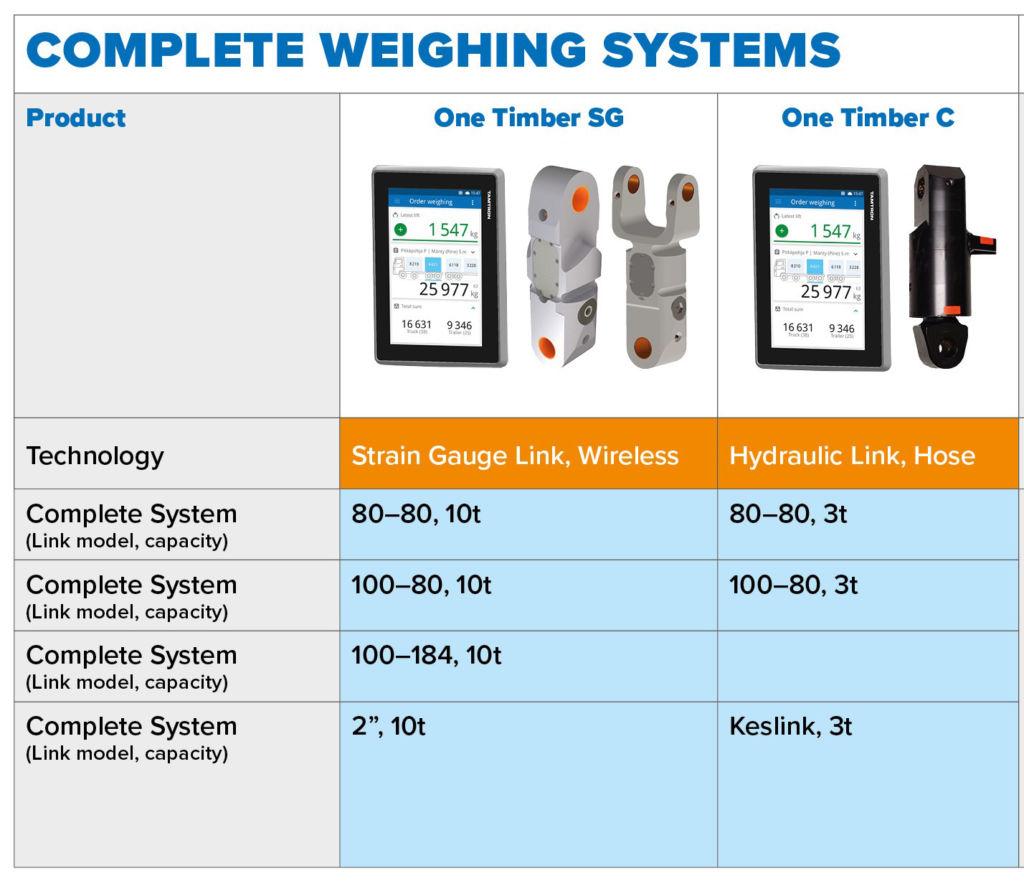 ONE TIMBER UPGRADE PACKAGES
Old scale models are easy to upgrade to a new era with Tamtron's One Timber upgrade packages. The upgrade package must include a modern One display and the necessary sensors. The range includes upgrade packages for hose-type hydraulic links as well as wireless hydraulic links.
TAMTRON ONE CLOUD – EASY ACCESS TO MORE PROFITABLE BUSINESS
At Tamtron One Cloud, weighing data from all connected on-board scales is available to the entire organization in real time. The weighing data is automatically transferred from the scale to the cloud service One Cloud with cloud service and wireless, real-time data transfer. Work orders are easy to send to the driver, and weighing data is automatically stored in real-time in the system without interruption. The main contractor can monitor all timber load volumes and schedules handled by subcontractors, thus streamlining timber logistics and processes. Reporting and collaboration with a partner network is also facilitated when the required information is easily and reliably available to the entire organization in one place. The automatic storage of data ensures that the weighing data is up-to-date, correct and combined with all the necessary data and documents. This in turn speeds up billing. By analyzing Tamtron One Cloud's weighing data, company management can increase efficiency, productivity and predictability. If necessary, a pocket-sized Bluetooth mobile printer can be connected to the scale to print receipts.
At Tamtron One Cloud, weighing data and reporting tools are available 24/7 to both internal and external users.