Modern truck scale software
Tamtron One Scalex is a modern truck scale software that can be used to connect old or new truck scales, regardless of make. It enables a location-independent center for the management of multiple truck scales and improves the quality, consistency and traceability of the weighing process. Tamtron's One Cloud makes it possible to combine the weighing data of truck scales and on-board scales and integrate all weighing data into the company's other systems.
One Scalex - Cloud based Truck Scale software
Why choose One Scalex cloud-based scales instead of traditional scales?
User-specific real-time weighing data always available throughout the process
Weighing data can seamlessly be integrated with ERP, billing, and inventory management software
Browser-based software is always ready to use, with less idle time within the process
No need for separate external devices to operate because the software is used on mobile devices and standard PC's
Can be connected to both old and new truck scales, regardless of make
The driver can also create an electronic movement document on his smartphone and the system will transfer the data to the national register of movement documents
ONE SCALEX SYSTEM OVERVIEW
FEATURES
One Scalex is a modern truck scale software that can be used with new or old truck scales of any brand.
The system is taken into use by connecting the IOT box to the existing (or renewed) weighing instrument that provides the weighing data.
The IoT device sends the weighing data into the Tamtron One Cloud cloud service.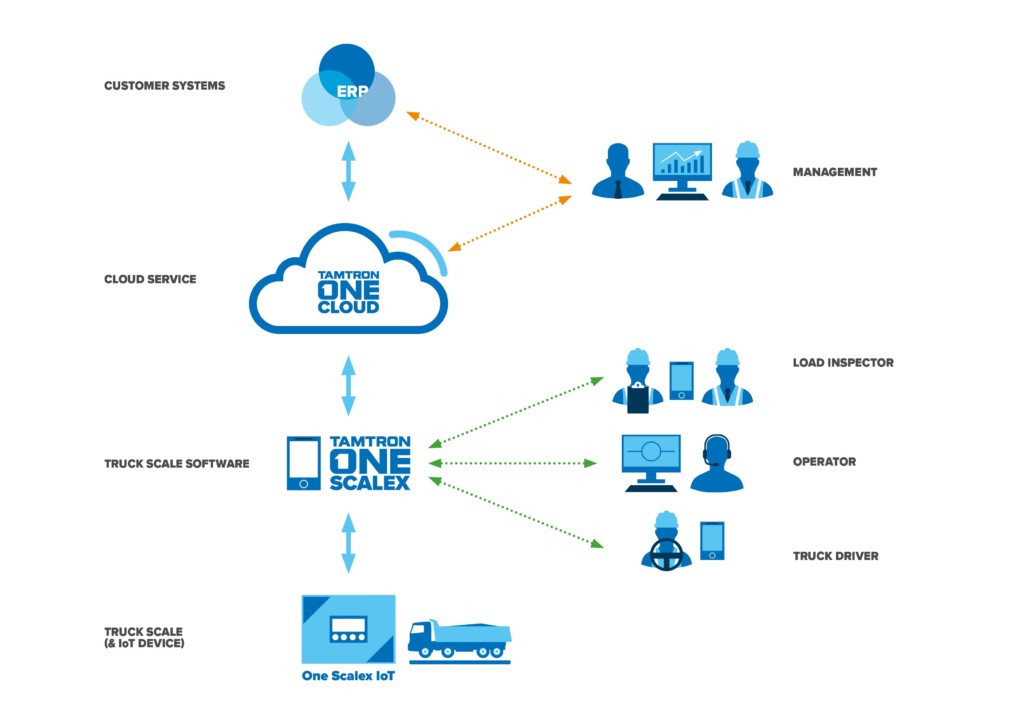 TRUCK DRIVER
uses the web-based truck scale software via the user's own smartphone or existing PC installed in the truck
can stay inside the truck during weighing
can see their own weighing data and receipts on their own device
OPERATOR
uses the software with the operator view usually with a PC
can work with many scales, even from many sites
can also act as a load inspector and take pictures of the load
LOAD INSPECTOR
usually use the software on their own smartphone
sees the real-time situation of trucks within the site
can easily edit weighing data related to the weighing and take pictures of the load
MANAGEMENT
Modern tools reduce errors and manual work relating to reporting and invoicing
Versatile reports for customers and own organization
Automatic transfer of data from weighing to ERP system
BUSINESS BENEFITS
Less hardware due to mobile use; reduces purchase and maintenance costs
Enables creating location-independent control center for many truck scales
Enables 24/7 operation without personnel
Improves quality, uniformity and traceability
One Cloud combines the weighing data of truck scales, on-board scales, platform scales, etc.
Digital service with a fixed monthly fee
IMPROVED FLOW OF INFORMATION
Better data flow between different systems reduces manual input
Automatic data transfer to ERP removes the need for manual checks
Real-time data always available
Customer-specific user rights for different user groups
EASING OF DAY-TO-DAY ACTIVITIES
Remote access to weighing data (via mobile devices)
The new solution is working towards fully digital solution, thus getting rid of paper receipts and documents
Improved safety as the driver can conduct the weighing process from inside the vehicle
Improved maintenance due to remote access
Automatic software updates. Latest software always in use.
Enables offline use