Customer-specific solutions
The Tamtron Trapper train scale system is the best weighing system on the market that has been approved for commercial use. Large steel mills, national transport operators and oil refineries across the globe rely on Trapper's excellent accuracy. When the scale's results are used as a basis for payments when buying and selling valuable materials or products, only a genuinely working solution in the highest accuracy class can be relied on.
Tamtron Trapper Railway Weighing system
Type-approved in the highest accuracy class in accordance with the MID directive
Suitable for stationary and in-motion weighing
Also suitable for in-motion weighing of liquid cargo wagons
Quick installation, no need for track work
More than 500 deliveries worldwide in 30 years
THE MOST ACCURATE WEIGHING AVAILABLE, WITHOUT COMPROMISING SAFETY
Trapper is equally suitable for stationary and in-motion, train-specific and wagon-specific weighing. Optimal accuracy is achieved when the train is weighed wagon by wagon while stationary. The scale system is also suitable for in-motion weighing of liquid cargo wagons thanks to its compensation for displacement of the centre of mass. The Trapper train scale system also includes features that improve safety, such as an overload alarm and loading error alarms that can be triggered by loading errors related to individual bogies or load positioning. When the set alarm limits are exceeded, an error alarm is launched in accordance with the customer's needs, e.g. with a sound signal or a text message.
WEIGHING INFORMATION MANAGEMENT
The customer can decide which file format is used for the weighing information in the Tamtron Trapper train scale system. The information can be transferred via an Internet connection as an .xml or a text file, for example. If necessary, the information transfer can also be integrated to the customer's ERP or other system. Reliability and safety can be increased with add-on functions to the Trapper train scale system, such as the wagon identification and description functions. When wagon numbers and weighing results can be combined reliably, erroneous information caused by issues such as incorrect train lists or wagons removed along the way can be avoided.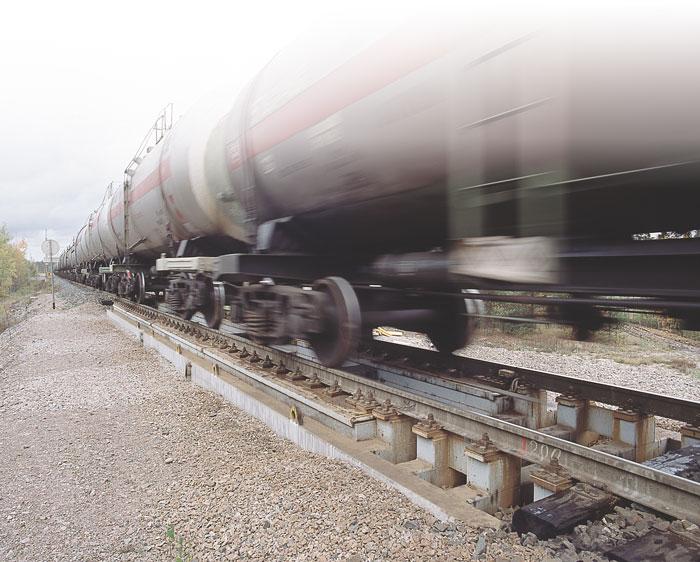 SOLUTION TAILORED TO THE CUSTOMER'S NEEDS
The Tamtron Trapper train scale system is suitable for all kinds of train weighing needs, as it can be tailored to meet the customer's exact needs. Trapper deliveries are always designed customer-specifically. The final configuration of the scale system is affected by various factors such as wagon lengths, distances between bogies and the materials usually transported on the trains. The customer is always provided with a train scale system that is optimal in terms or technology, length, functions and price for an individual operational environment.
QUICK INSTALLATION FACILITATES ALMOST UNINTERRUPTED PRODUCTION
The Trapper scale system is installed directly onto a gravel bed, making the scale platform as elastic as the rest of the track and thus resulting in highly accurate weighing. Large-scale track work can also be avoided, which makes the installation quick and facilitates almost uninterrupted production. The load cells are protected inside the scale structure. Thanks to its structure, the Trapper weighing system works reliably in challenging weather conditions, from harsh northern winters to tropically hot and humid southern environments.