More productive business, more efficient production processes, easier invoicing, and faster workflow. We know weighing.

With our scales, you can get accurate weighing results quickly. But that is just the beginning – Tamtron's advanced weighing data cloud services and deep expertise in the weighing industry open new opportunities for a more profitable business.
Information is the most valuable currency for companies – it is the basis of invoicing, a way of making their own operations more efficient, and a way to respond to ever increasing regulatory and environmental requirements. Weighing and measuring have been one of the most effortless ways to collect information for decades.
Pentti Asikainen, Chairman of Tamtron's Board of Directors
Decades of experience in weighing industry
Since 1972, Tamtron has manufactured the most intelligent weighing solutions on the market. Supporting our customers' business and being their active partner have been the cornerstones of our business from the very beginning.
During 50 years of operation, we have installed more than 6,000 scales and served nearly 3,000 cloud service customers worldwide. This is a strong indication of the usability of Tamtron's weighing solutions, the customer-orientation of our operations, and our expertise in the weighing industry.
Our offering includes a wide range of weighing solutions for different industries and industrial needs. Knowing the regulations involved in weighing as well as understanding our customers' business, processes and business environment are at the core of everything we do.
Weighing is based on the customer's need
We want to save our customers' time and effort as well as make their daily lives easier. For example, we design our weighing solutions so that loads are weighed, and the weight data is recorded while the loads and the machines are being moved. With advanced solutions, weighing data is transferred to cloud instantly, making real-time data available to the entire organization immediately.
Tamtron's solutions reflect years of experience, long and close cooperation with our partners and key customers, and extensive expertise that combines mechanical and information technology skills with production, process and logistics expertise. In this way, we help our customers collect and manage reliable weighing data in a timely manner and as part of their daily operations.
The weighing system requires a wide range of expertise 
Weighing and, above all, the development, manufacture, installation, verification and maintenance of weighing systems require multidisciplinary expertise. Our weighing solutions are built with Tamtron's deep expertise in mechanical and electrical engineering, user interface design, cloud and SaaS services, information system integrations, as well as weighing and measurement data legislation. Above all, we understand the customers' business processes, operating environment, and equipment they use in their operations. This expertise forms a solid foundation for our weighing solutions, which we have designed to best serve our customers and to help them to turn weighed kilos into a more profitable business.
Commercial weighing enables the utilisation of weighing data as part of invoicing. To be used for commercial weighing, the scale must be type-approved and verified as required by the authorities. Tamtron's scales have the necessary approvals. We can also help our customers with all necessary verifications.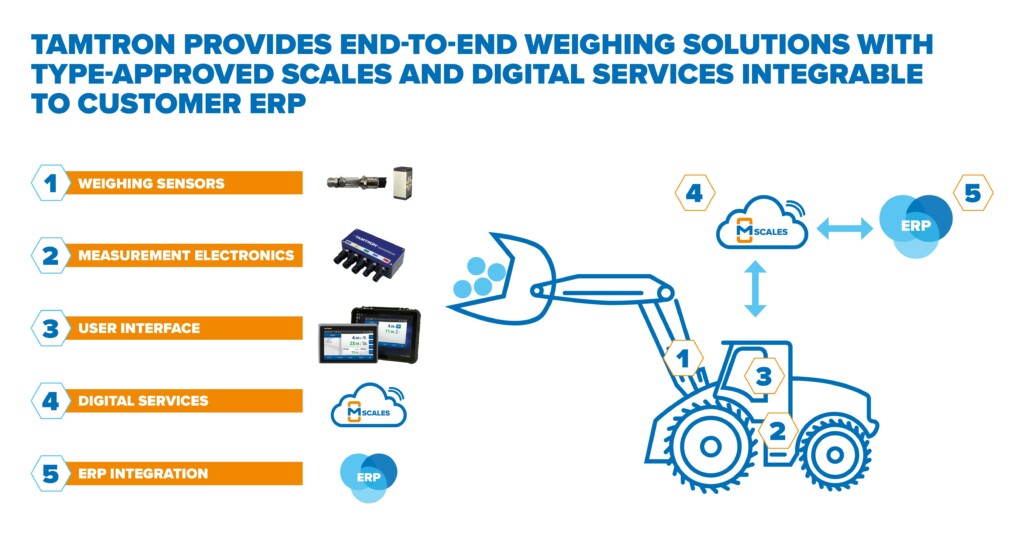 Accurate and real-time weighing information is an essential part of our customers' daily operations. The information must be reliable, accurate, and be generated as part of the company's daily processes. With Tamtron's weighing solutions, you work without interruptions or downtime.
The weighing solutions can be connected to Tamtron's easy-to-use mScales service, which (among other things) enables fast support, diagnostic tools, and remote updates. Even in the most difficult situations, we support you quickly and flexibly – and your work can continue seamlessly.
With reporting and analysis, you can streamline and optimize material flows, production, human resources, fleet utilization, and your company's processes. Versatile weighing data is transmitted in real time to mScales where it can be managed as such, or integrated into customer's ERP, TOS, invoicing or other systems.
Tamtron's secure solutions support all parties involved in the business. Reliable and accurate weighing data helps you benefit from faster workflow, more transparent trade and business, and significant cost savings.
Our cloud service provides tools for versatile management, reporting, and analysis of weighing data.
The cloud service is secure and easy to use.
The weighing information is automatically transferred from a scale to a server.
Reporting is transparent and effortless between all parties involved in the operation.
Different permissions can be assigned to different users.
It is possible to import weighing data from many different sources. For example, in a port environment, reach stacker, straddle carrier and truck scales can be combined.
A modern cloud service offers comfortable user experience also on mobile devices, mobile phones and tablets.
Consulting
Our offering includes standard scales as well as comprehensive, integrated weighing solutions and broad selection of services designed to meet the challenges of our customers today and in the future. We serve all major industries and know their weighing needs as well as the business environment. In addition, we know the laws and regulations related to weighing, which must be taken into consideration as part of the business operations. With the help of our expert, the entire weighing process, and the life cycle of weighing solutions can be taken into account in the right way from the beginning.