We in Tamtron want to recognize our partners annually for the exceptional work they are doing for promoting Tamtron products and serving Tamtron's end-customers worldwide. With the "Partner of the Year" -award we want to honour the partners that have had a long-term business relationship with Tamtron and with the "Rookie of the Year" -award we honour one of our newest partners.
PARTNER OF THE YEAR 2021: FLUITEK CHILE
Fluitek Chile has 30 years of  experience in mining, forestry and construction machinery. The company is in charge of supplying, installing and providing after-sales services to its entire product lines.
Fluitek Chile has been Tamtron's partner already a long time, but year 2021 has been in many ways exceptional for Fluitek and our partnership. In year 2021 Fluitek managed to multiply the sales of Tamtron weighing solutions when compared to previous years. Also, the partnership has evolved strongly during the year 2021. What makes this exceptional is that Covid-19 situation has been extremely challenging in South America and Chilean market where Fluitek operates in 2021.
With this award Tamtron praises Fluitek for the long-term commitment and extraordinary result in the year 2021. We want to thank Juan Luis Simunovic R., Gustavo Vial V., Eugenio Vial R., Rodrigo Valdivia and the rest of the team Fluitek for the great work. Tamtron looks forward to new prosperous years together with Fluitek Chile.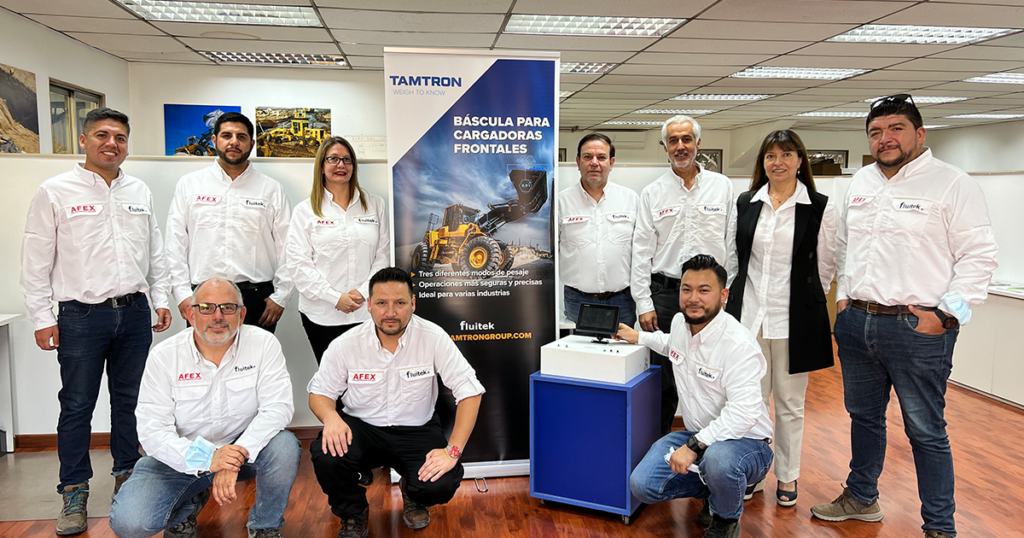 When asked Fluitek describes the reasoning behind the success with following:
Customers have been implementing different solutions to be more efficient and safe in their different operations, in this way the solution of the weighing systems on board ensure you have precise control of your production, protect your equipment from overload and most importantly with a safe operation reducing the risks of accidents to its operators.

We are very close to our clients, we are constantly looking for business opportunities in different industries, we know very well the market for mobile equipment that operates in different industries (Construction, mining, transportation and forestry) this allows us to understand the business of our clients and with this offer the weighing systems that are perfectly adjusted to their operations and needs.
ROOKIE OF THE YEAR 2021: BLACK SMOKE REPAIRS CANADA
Black Smoke Repairs, which operates in New Brunswick and surrounding areas in Canada, is one of the newest additions to the Tamtron partner network. Since the beginning of our co-operation, Black Smoke Repairs has demonstrated a high level of commitment and technical dedication as Tamtron's dealer. Black Smoke Repairs is a family owned and operated business and they are customer service orientated and eager to cooperate and serve their customers.
"Having experience working in the heavy equipment service and repair industry for 17 years, I have had my own company for almost 7 years now. Black Smoke Repairs is an on-site repair and service for heavy equipment, including wheel loaders, excavators, dozers, and rock crushers.
When the opportunity became available to become a Tamtron dealer, it was an easy decision to be part of renown and a company recognized worldwide." Eric Black, the owner of the Black Smoke Repairs, tells about how the partnership started and continues:
"These Tamtron solutions are top of the line and I am proud to provide and distribute these products to a variety of customers and companies throughout the industry. Looking forward to continue working with an excellent group and to serving all customers."
"It is such an honour to be recognized as "New dealer of the year", out of so many other great business's that are a part of this organization. Hard work pays off and it is something to strive for each year." Eric concludes.
Tamtron is very pleased to be co-operating with Erik Black and Black Smoke Repairs.