We in Tamtron want to recognize our partners annually for the exceptional work they are doing for promoting Tamtron products and serving Tamtron's end-customers worldwide. With the "Partner of the Year" -award we want to honour the partners that have had a long-term business relationship with Tamtron and with the "Newcomer of the Year" -award we honour one of our newest partners.
PARTNER OF THE YEAR 2022: Pivotex Balti Oü
Pivotex Balti Oü has cooperated with Tamtron for thirty years and has installed hundreds of our weighing systems, both truck, railway, and wheel loader scales. This year has continued to be particularly strong again.
When asked how the co-operation started, Matti Simmer, CEO, Pivotex Balti OÜ tells:
"The first contact with Tamtron happened in 1990 when we were invited for training in Espoo. The training lasted one week, and the focus was on the installation and maintenance of Trapper train scales. In the same year, the first railway scale was installed in Novopolotski Belarus in the oil refinery. After that more than thirty railway scales and twenty truck scales have been installed around Russia. The most exotic installation trip was six weeks in Siberia where three railway scales were installed in very demanding environment."
"When Estonia became independent in 1991 we started sales and installation work in Estonia. The first truck scale was installed in 1994 for FAZER EESTI and the first railway scale was installed around the same time. During thirty years, we have installed 19 railway scales and more than 220 truck scales in Estonia. Some of our customers are Eestin Energia, Eestin Tulli, Kunda Nordic Cement, Kuusakoski AS and Muuga Sadam." continues Matti to tell more about Pivotex Baltic Oü operations.
We thank Pivotex Oü for these years and look forward to continuing this partnership for future years.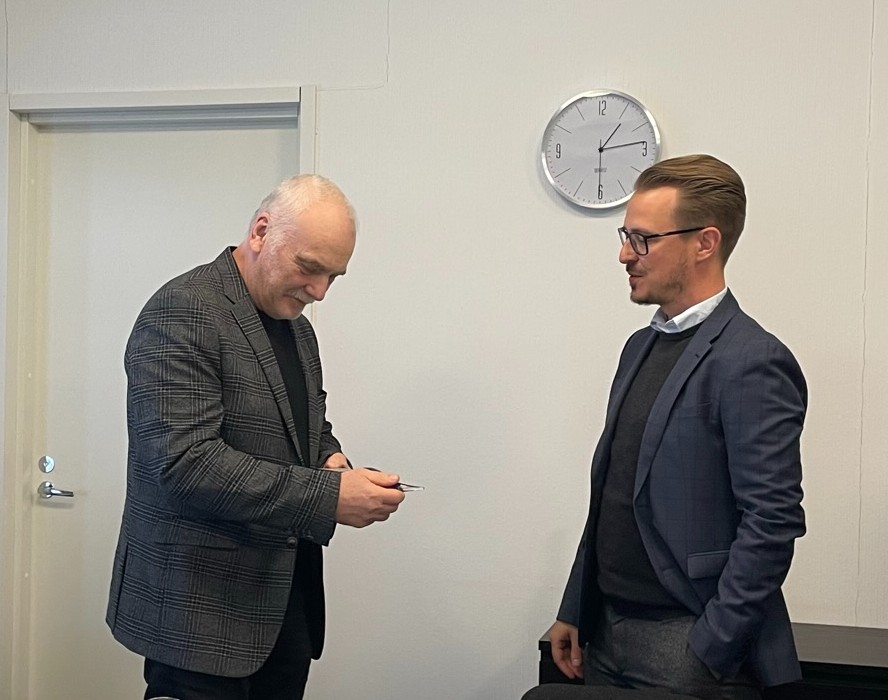 NEWCOMER OF THE YEAR 2022: Tæknivit ehf.
Tæknivit ehf. has been familiar to Tamtron for almost twenty years, but after a few quieter years our cooperation has reached a new level.
"At Tæknivit ehf. we are six highly competent employees, five of us working fulltime. The annual turnover was 77 M kr last year and it came out selling products and services along with service contracts", introduces Magnus Thor Karlsson, founder of Tæknivit ehf. and continues:
"Tæknivit's weighing and information systems are examples of specialized systems offered to our customers. Behind those systems are years of innovation and experience. We deliver specialized weighing solutions to our customers. The WeightGuard system and our instant weighing system Touch Screen Monitor are examples of systems we run for our clients. These two systems interact with each other and make up for a flexible solutions for our customers."
We highly appreciate that Tæknivit has managed to sell wheel loader, material handler, forklift, and timber crane scales in their rather small market. Since they have high-level competences on digitalization of payment and registration services as well as cloud-based solutions, we believe next up will be One Scalex, Tamtron's mobile weighing solution. Thank you for the co-operation in 2022 and we look forward to what 2023 will bring.