The importance of reliable data, paperlessness and business automation will continue to grow in the coming years. The value of accurate, real-time updated weighing data and the need for services that enable faster and more efficient operations, regardless of the business, will also increase dramatically. Next-generation Software as a Service (SaaS) and cloud computing are already at the heart of Tamtron.
Tuomas Jussila, Product Manager, is heavily involved in the development of Tamtron's new generation of cloud services. He works in project management, for example, bringing customer needs to software development, opening and defining them. In his article, Jussila explains what SaaS means for Tamtron and how the company develops cloud services.
Tamtron has been designing and implementing cloud services for a long time. What has always been important to us is how to make weighing data best serve our customers' business: how to make it easily available to all parties, and how it can increase transparency, streamline operations, make them speak the same language and work together as smoothly as possible.
Tamtron's first cloud service, WNexus, is still functional and valid today. However, its role is to be more of a static reporting service where you can see what is happening in the weighing process. However, we are strongly focused on next-generation cloud services – such as Tamtron One Cloud, a cloud service for all scales, which enables efficient weighing data management from multiple scales or scale types if required, and the mobile weighing system One Scalex, which also allows the weighing itself to be done remotely from the user's own mobile device. For Tamtron, SaaS means weighing as a service. The customer receives the weighing software from us as a complete service. We are responsible for the set-up and maintenance, development and continuous updating of new features.
COMPLETELY NEW SOFTWARE ARCHITECTURE AND AGILE SOFTWARE DEVELOPMENT – NEW FEATURES QUICKLY AVAILABLE TO CUSTOMERS
Tamtron is praised for taking a holistic view of the customer's needs throughout the service lifecycle – a driving force for us in the development of cloud services.
Our mission is to listen to our customers and turn their needs into a technically viable solution. The customer need does not translate into a feature as such but is considered from different technical perspectives, and special cases and situations are defined before they are suitable for software development. From the outset, the customer need is considered from a number of different perspectives in order to make it more relevant to the needs and use of other customers.
My role is to act between the customer and the raw software development and to write these stories and paths. In addition, Tamtron is heavily involved in customer projects, for example, when we do integrations, i.e. when we interface with the customer's ERP systems: we produce weighing data that turns into invoices when the data is exported across the integration to the ERP.
At Tamtron, we have not set out to fix the old in cloud computing, but to create something completely new. The software architecture is completely new, and we develop software using modern, agile development methods. We have moved to scrum methods. We have fixed-cycle, two-week sprints where we bring in software to do things. The product owner defines what needs to be done in that sprint, and the software team self-directs to implement what is agreed. During the sprint period, we also conduct peer reviews to monitor progress and ensure that quality is maintained. The end result is a finished piece of software of good quality and tested.
The world and the weighing industry are changing at an accelerating pace. In the past, software development was very much based on the so-called waterfall model. First, a comprehensive definition of what the software needed to do was defined, followed by a project that took years to complete. The result was usually in line with the specifications, but often the end result no longer met the customer's needs. On the other hand, it was not always possible to define the essentials at a sufficient level at the beginning.
Now that we develop the weighing software in sprints, in short periods, we can also get the final product out to the customer quickly and agilely, immediately after consulting the customer's needs. We get immediate feedback from the customer, and in subsequent sprints, we can again continue development and make improvements. Another advantage is that we can release new features continuously, even once a month or every couple of months. We make sure that features are updated for all our customers immediately, and in addition to improvements, any problems can be fixed quickly.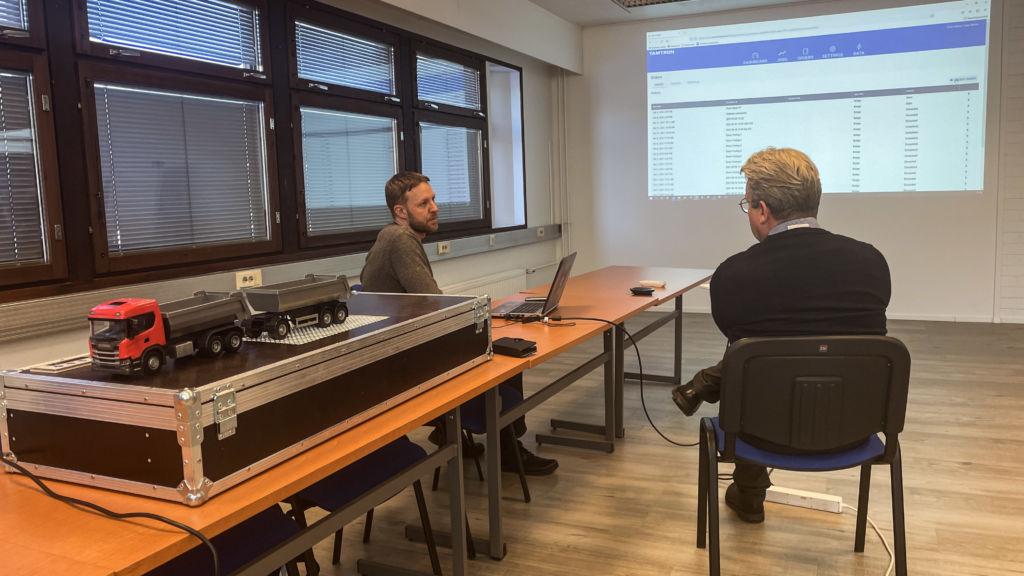 CLOUD COMPUTING CAN HELP AUTOMATE BUSINESS OPERATIONS
In the bigger picture, the aim of SaaS technology for us, as for other SaaS services, is to facilitate and promote knowledge management. Tamtron's new generation One Cloud plays an important role in connecting data and increasing automation. Companies of all sizes will benefit from the opportunities offered by cloud services. Even small businesses can automate their operations in an agile way, without having to take on maintenance responsibilities.
Integrations play a very important role in cloud computing. They are used to make parts that, when combined, become a functional whole. Integrating saves a lot of work. Take the example of Tamtron's One Scalex car scale weighing service. When a weighing is done with One Scalex, the weighing data is automatically transferred to the One Cloud service for reporting. We have several customers whose data from all their scales is transferred to OneCloud in a single reporting platform. This gives the customer more visibility of their entire material flow and logistics from one place.
The driver can do the weighing in the safety of his own cabin, safely, quickly and regardless of location. Management and operators, on the other hand, get near real-time information on how the company's production, for example, is doing. Reports no longer need to be generated manually. Through One Cloud, orders can be sent directly to the scale and their completion can be acknowledged instantly. The real-time availability of weighing data ensures that invoicing is possible immediately after weighing. Unlike traditional receipts, data is never lost or delayed in transit. As the weighing data is automatically sent by the scales to the server after weighing, the data is always up-to-date and can be accessed via mobile devices if required.
GLOBAL CLOUD COMPUTING – GLOBAL SOFTWARE DEVELOPMENT
In addition to agile methods, we use modern, internationally known and tested platforms for software development. Tamtron's cloud services are available worldwide. For example, One Cloud runs on a global cloud provider's platform. I would also like to highlight One Scalex, which uses the open-source React interface. React is a highly used technology internationally and tested in a wide range of environments.
Of course, the Internet is global by default, but Tamtron offers cloud computing from several data centres around the world, and we can set up a new data centre closer to the customer if needed. The location of the data centre will affect, among other things, the smoothness and speed of the service at the customer's end. The cost of maintaining cloud services in terms of weighing equipment is also moderate for the customer, as there is little physical hardware. As a digital service, there is also no need for round-the-clock staff maintenance.
We process weighing data in digital environments in an agile way. We draw on decades of experience in weighing and weighing products, our know-how of customer challenges and needs, and add dynamic, modern software development. Our team working on cloud computing is constantly growing stronger and our investments in understanding and communicating customer needs through SaaS technology will continue to grow at Tamtron in the future.