Turn kilos into profitable business
More productive business, more efficient production processes, easier invoicing, and faster workflow with Tamtron's advanced weighing solutions and modern cloud services.
When the weighing data is essential part of your business, collecting, storing, sharing and utilising it, is key for more profitable business. Tamtron offers modern cloud services together with world class weighing equipment that enables just that. With Tamtron scales, cloud-based weighing data mangement, you can turn kilos to more profitable business.
Kilos into more profitable business with Tamtron weighing solutions
Information is the most valuable currency for companies – it is the basis of invoicing, a way of making their own operations more efficient, and a way to respond to ever increasing regulatory and environmental requirements. Weighing and measuring have been one of the most effortless ways to collect information for decades.
Accurate and real-time weighing information is an essential part of our customers' daily operations. The information must be reliable, accurate, and be generated as part of the company's daily processes. With Tamtron's weighing solutions, you work without interruptions or downtime.
The weighing solutions can be connected to Tamtron's easy-to-use One Cloud service, which (among other things) enables fast support, diagnostic tools, and remote updates. Even in the most difficult situations, we support you quickly and flexibly – and your work can continue seamlessly.
With reporting and analysis, you can streamline and optimize material flows, production, human resources, fleet utilization, and your company's processes. Versatile weighing data is transmitted in real time to One Cloud, where it can be managed as such, or integrated into customer's ERP, TOS, invoicing or other systems.
Tamtron's secure solutions support all parties involved in the business. Reliable and accurate weighing data helps you benefit from faster workflow, more transparent trade and business, and significant cost savings.

Download brochure
Weighing data management and data flow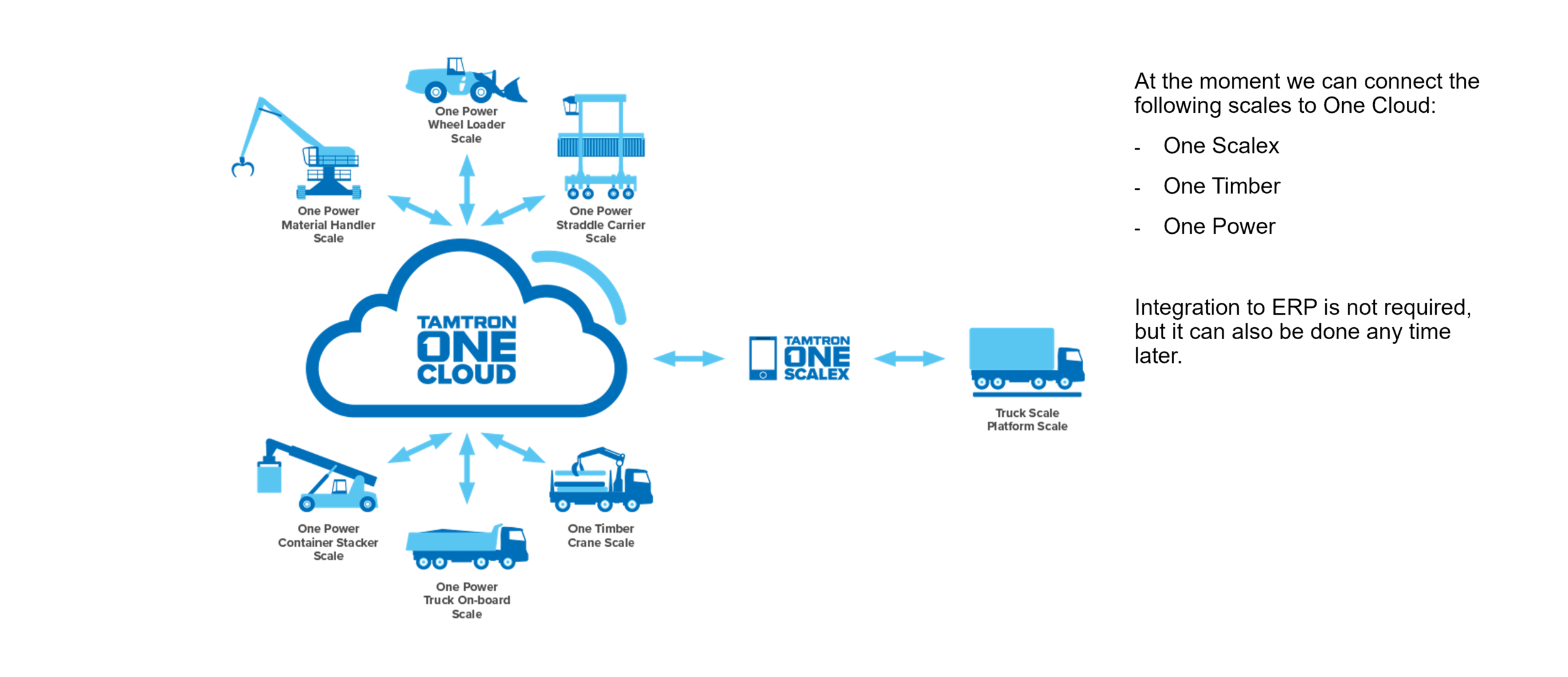 See the different dataflow models – with and without ERP connection, below by clicking at the first picture.
Dataflow without integrations to external systems
Dataflow with integration to ERP or other systems
Tamtron's advanced weighing data cloud services and deep expertise in the weighing industry open new opportunities for a more profitable business
Since 1972, Tamtron has manufactured the most intelligent weighing solutions on the market. Supporting our customers' business and being their active partner have been the cornerstones of our business from the very beginning.
During 50 years of operation, we have installed more than 6,000 scales and served nearly 3,000 cloud service customers worldwide. This is a strong indication of the usability of Tamtron's weighing solutions, the customer-orientation of our operations, and our expertise in the weighing industry.